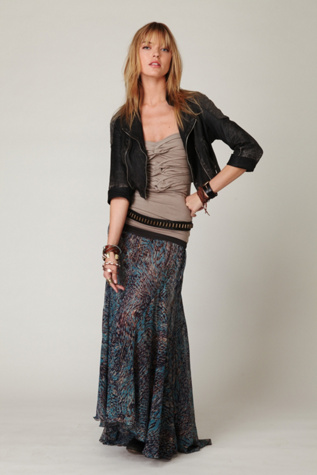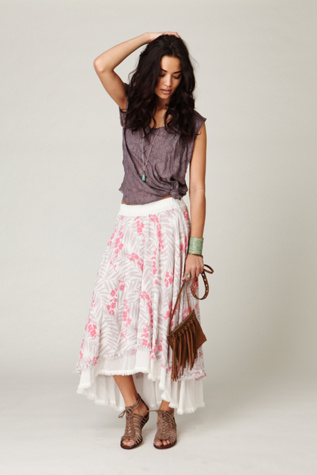 The warm weather is blooming into full swing (at least out here in Northern California) and is lifting our spirits.   So it is no wonder that we wanted to match the pure joy we feel on the inside with a worthy fashionable wear to flaunt on the outside.
And given how elated we feel in this weather nirvana, we decided to pay tribute to the ethereal maxi skirt (a.k.a. long skirt).
A full bodied maxi skirt, will add a bounce to your step and is a perfect wardrobe addition for the warmer months.   Wear it with sandals in spring and summer.   Pair it with booties in the fall.
Conjure up an image of a sexy gypsy by pairing your new long skirt with a bohemian top or accessorizing it with stacked bangles.
Or for a more formal look, wear it with a collared shirt and classy sandals to catch a meeting at the office.   Then step into strappy sandals and head out to Hamptons for the weekend.
Who is better to give us a perfect arrays of maxis that the beloved Free People brand?  From modern stripes, to pretty florals, to tiered extravaganza, you are bound to find a maxi skirt here that meets your taste and lifestyle.   Prices range from affordable $28 to $148.
Wear your new maxi skirt with a foldover cross-body bag and comfortable platform wedge sandal.