Overstock.com is having a superb LinQ sale.   For those of you who don't know LinQ brand, they make luxe quality, most comfortable clothing: tops, maxi dresses, sweaters with a fashion twist.   Most apparel is made from cotton and modal and has amazing quality.
Personally speaking, I prefer LinQ quality to C&C tees and tops.  The materials feel softer, but the fabric is firmer, making the clothing less prone to over-stretching.
It is a brand loved by celebrities, including Jessica Alba, Eva Longoria, and Halle Berry.
Interestingly enough, RueLaLa is running a sample sale for LinQ right now. We price compared and Overstock prices are cheaper than RueLaLa's by approximately $20 (if you count cost of shipping & handling).  Take that, sample sale!
We absolutely love the sleeves and neck tulle detail that most of the tops have.  It mixes casual with elegant and makes these tops versatile and wearable with just about any style.
Here are a few styles we like, but search for LinQ on Overstock for more selection, they have many items from the brand:
1. LinQ Silk Trim Long-sleeve Fashion Top – $29.99 (original $128)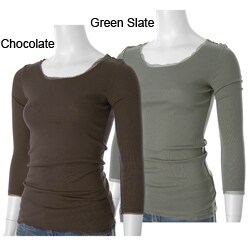 2. LinQ Long Sleeve V-Neck Top Silk Trim – $29.99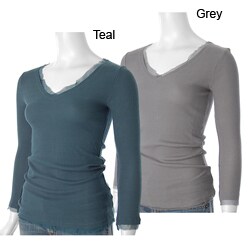 3.  LinQ Sleeveless Knot Dress – $45.99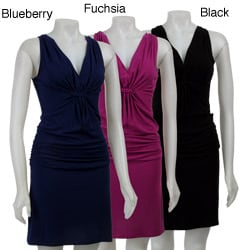 And purely for comparison purpose, here are the same item from RueLaLa (don't forget to factor in RueLaLa $9.95 S&H).

Sign up for deals & steals, celebrity fashion finds, and "It Things" shopping guides.   Share with friends!