If you are toying with the idea of buying a striped cardigan this spring, your fashion senses are on trend.
Fresh and stylish, a striped cardigan is the perfect transitional piece to glide you from the dark, solid hues into the vibrant spring.   If you missed it on our 11 must-have wardrobe essentials list, this is the time to get this wardrobe staple.

This Splendid Loose Knit Striped Cardigan
, $98, has a flattering draped cut and a classy blue and white hue.   It also has an adoptable personality and easily pairs with both business and casual attire.  We deem it "The Quality Investment" as you can wear it all-year round.

This Chanel-esque Striped Cashmere Lokni Cardigan by Madewell, $168 plays by the rules with a  proper cut and  classy stripes.  It also stylishly breaks the rules by showcasing pockets with a smaller stripe pattern.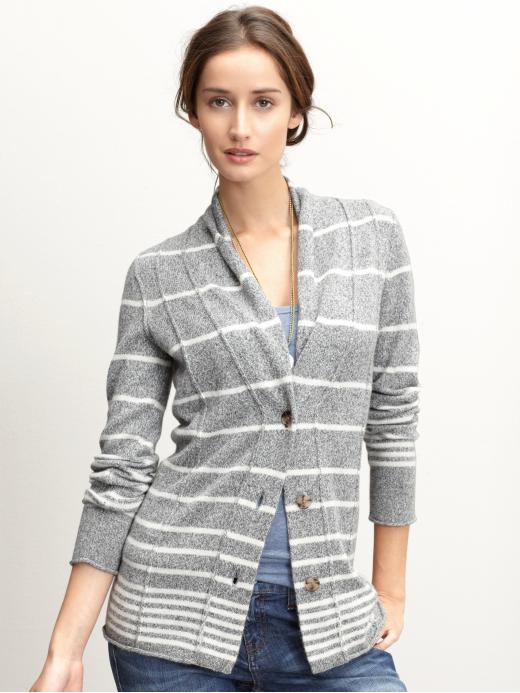 Classy and cozy, this Banana Republic Striped shawl collar cardigan
, $75.99, will keep spring draft at bay.  This boyfriend cardigan is called so for a reason.   It will envelope you in warmth and security, just like a hug from a good boyfriend would.
Get striped with one of these finds and give your tired winter wardrobe a much needed uplift.    If you are looking for a place to replenish on the budget, then stop buy our sample sales online list.