Update: We have new sweater dresses styles for fall..Check them out.
Finding the best sweater dress to wear during the cold months, is equivalent to finding a fashion nirvana.
A sweater dress creates a chic look and keeps you warm.   I also love the benefit of one piece and that a brain strain is not required to find a matching top or bottom.
To satisfy my awe and sweater dresses obsession, here is an array of the best sweater dresses this season.  The dresses are grouped by price categories: Savvy Fashionista, Aspiring Socialite, and Trust Fund Baby.
Savvy Fashionista (Under $100)
1.AGB Dress, Scoopneck Pleated Sweater
-$54. This empire waist dress is complimentary in style.  It highlights just the right assets (and by that we mean decolletage), while softly falling over the lower body.  We love the refreshing dash of violet and can't resist the fab price.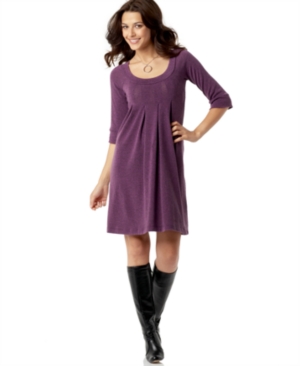 2. Calvin Klein Bell Sleeve Sweater Dress – $98. Classy color (you did hear that grey is the new black, right?), flattering cut, lovely bell sleeves create a perfect sweater dress.   The best part is that it is versatile and will work equally well whether you wear it to the office and to showcase it for drinks and dinner.

3.AK Anne Klein Boatneck Sweater Dress
– $98.  Slimming in black and so comfortable, this dress is a perfect palette to accessorize for versatile looks.

Aspiring Socialite ($100 to $300)
1.BCBGMAXAZRIA Cowlneck Sweater Dress – $138

2.BCBGMAXAZRIA Drape Neck Sweater Dress
-$248.   Zipper pockets, chic cowl neck front design, perfect length, classy color – what's not to like?

3.Nanette Lepore 'Best Friend' Dress – $248

Trust Fund Baby:
1.Diane von Furstenberg 'Lovisa' Sweater Dress
-$298

2.Angora Blend Dress -$595

3.Diane von Furstenberg Portis Sweater -$385

Girly, Short, Ruffled and Crochet Sweater Dresses – Pure cute, just because you feel like it!
1.Design History Puff Sleeve Shift Dress-$138 2.Design History Ruffle Front Sweater Dress
-$128
3.Ella Moss 'Claridge' Dress
-$243

How To Wear A Sweater Dress:
A great thing about the right sweater dress is how versatile it is.   You can create numerous looks, by pairing it with different shoe styles and sheer or opaque leggings.
Casual Grunge:  For an everyday look, wear it with a slouchy boot that has a chunky heel (or an ankle boot) and pair it with thick leggings.
Good Girl: Wear it with feminine cardigan, Mary Jane pumps, and either see-through or opaque pantyhose.
Sexy Vixen: Wear it with high heel boot or pump and beige to add height.  Pair it with beige or see-through black pantyhose to show more skin.
Looking for a perfect pair of boots to wear this fall? Check out our over-the-knee boot guide and ankle boot guide.