With the holiday events approaching at a catapulting speed, it's hard to keep coming up with a new dress for each event. That's why a versatile dress is the best strategy.  Wear it with a cardigan to an office party, then add sparkling  jewelry and platform pumps to transform it into an evening number.
For 20% off $100 use code BRGIVE20 until Dec. 13th.
We love these pieces for their ability to meta-morph from day to night pieces.   And the sale price makes buying this dress so much more enticing:
1. Circle-print wrap dress – Dark burgundy
–$99.95(from $125).  Rich burgundy color, eye drawing pattern, flattering wrap, and a plunging neckline – can you ask for more?  Well, may be just a little discount.  Voila, add a small accessory to bring the total to$100 and get 20% off total purchase.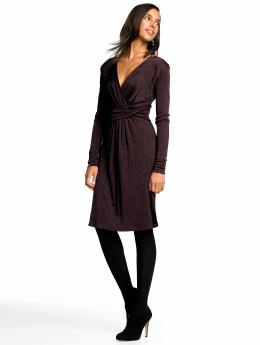 \
2.Flutter-sleeve wrap dress in Roadster
-$45 to $50 (from $132).  Elegant and playful this dress will look appropriate for the office holiday party and will work well during a dinner out or a festive evening event.  Just throw on a pair of sparkling earrings and a tall pair of heels.  Go with roadster color for a classier look and with silver for a festive look.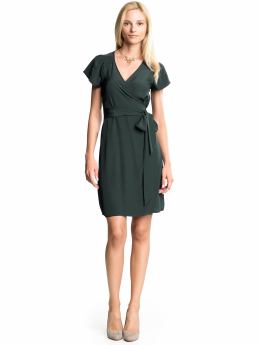 3. Twist wrap dress in Deep Fuschia
-$69.99 (from $165).  Make a splash entrance in this vibrant fuschia colored, Issa-like dress.  The wrap style is elegant, and the ruching is figure flattering. Wear with black opaque stockings for contrast or beige stockings to punch up the elegance factor.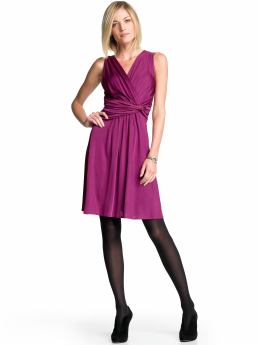 Accessorize:
Accessorize with stylish pumps from Nine West discounted 60% (this sale is good until Dec. 11th).
Nine West – Georgy Pump– $31.60(from $79 -60% off)


Pick up cashmere cardigans on sale to throw over your dress, today Only Dec. 10th. All the popular styles are 30% off, including Vince, Splendid, Juicy Couture and Rebbecca Taylor. 

This Juicy Couture Ruffle Zip-Up Cardigan in Angel
is festive and flattering.  It would work well to wear over a holiday dress.

Running behind on getting your gifts?  Make it simple by choosing from the The Ultimate 2009 Holiday Gift Guide.